--This post may contain affiliate links. I receive a small amount of commission on any purchases through links on my site. Which will totally be blown on upgrading my gaming PC!!--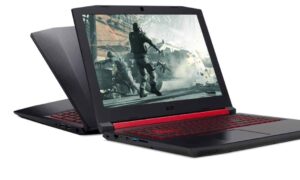 Product: Acer Nitro 5 Gaming Laptop Intel i5 RTX 3050 Ti
Price:  £699.99 (Retail)
Cheapest Place to Buy: Currys.co.uk
Guarantee: 1 Year Warrant
Overall Rating: 8 out of 10
---
Overview
The Acer Nitro 5 is a solid contender for one of the best mid-range gaming laptops on the market at the moment. You can fully enjoy full HD gaming while on the go. This model of the Nitro 5 features an 11th gen i5 processor and 8GB of RAM meaning it is more than powerful enough to enjoy all your favorite games.
Features
You also have the latest 30 series graphics card that will allow you to not only play your favorite games but enjoy them in full HD with realistic shadow reflections and ray tracing. With this being matched with a 144Hz screen you can expect smooth gameplay at high fps.
There are no concerns about staying cool while under heavy load due to Acer's coolboost tech with increased fan speeds by up to 10% at crucial moments. You are able easily able to monitor and adjust the fan speeds with one simple click through the NitroSense app.
When it comes to gaming online as a hobby or competing a split second can decide if you win or lose. With killer WiFi 6 you get an incredibly stable connection with minimal latency. If you are still concerned about a drop in power you can always go for the killer ethernet port.
Specification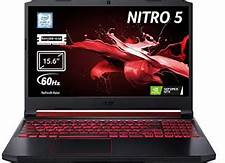 We have covered a couple of the specs however I want to go through a complete breakdown of
what you are getting. This laptop, if you haven't guessed already, is completely focused on gaming, you can complete your normal tasks with it as its operating system would be windows 10,
however it would be overkill.
 Performance
The Nitro 5 has an RTX 3050Ti 4GB graphics card which is the latest generation with Ray Tracing. You have 8GB DDR4 RAM installed from new with the ability to upgrade to a max of
32GB if you intend to run some demanding applications. When it comes to the CPU processor, you have an Intel i5-11400H processor with Hexa-core, giving you 6 cores. It has a base clock speed of 2.7 GHz but a turbo clock speed of 4.5GHz which is a direct comparison to the Ryzen 5 5600H.
The Nitro 5 gaming laptop comes with a full HD 1920 x 1080p screen which is 144Hz. It is 15.6″ which is one of the larger laptop screen sizes available.
Connectivity
I have already touched on this but you have WiFi 6 with 2×2. You also have the Ethernet killer port allowing you to go wired. It also has the latest Bluetooth 5.1 installed allowing you to transfer devices between devices quicker than ever. You have 3 of the latest USB 3.1 slots installed along with 1x HDMI 2.0 and 1x Thunderbolt 4 and finally 1x 3.5mm jack plug meaning you can go with wireless headphones or not.
Features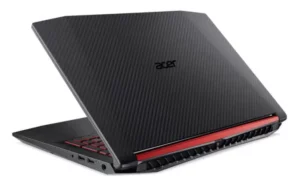 It has a red-backlit membrane keyboard with a numeric keypad. The mouse is a trackpad with multi-touch, and gesture control. The camer is a 1MP webcam. You have a type 4 cell lithium-ion battery with a life of up to 8.5 hours per full charge. If you don't have headphones, the Nitro 5 has DTS X audio software with stereo speakers.
This particular laptop has a certain amount of style however there are better-looking laptops out there whether that is just the lid which this laptop has a simple Acer logo on the back, and because of the available lighting, you only have the keyboard lights, nothing else.
Overall
If you are looking at getting into gaming and it has to be a laptop then this is a good starter. It is a budget to mid-range gaming laptop that offers your mid-range performance. This will stand out to the gamers who are happy to drop on resolution and frame rates who just want to be able to play the latest titles without too much of an issue.
This gaming laptop may not be the most powerful on the market or the best looking one however it will be cheaper than most if not all equal competition on the market. If you take a look through the link below at the time of writing this particular model is £699 down from £899. You can tell where Acer has been able to keep the costs down, for instance, you are very limited on customising the lighting as you only have the backlit keyboard. Also, the trackpad mouse has room for improvement. However, when it comes to gaming the Nitro 5 is very good so you can't grumble!
If you are looking to take your gaming mobile no matter how much you enjoy it, this is a very good laptop. If you are after the higher frames and resolution with a bit more power they do have numerous configurations. The Acer Nitro 5 is definitely worth the consideration, especially with the current discount being offered.
Click here to view this model Acer Nitro 5 gaming laptop