--This post may contain affiliate links. I receive a small amount of commission on any purchases through links on my site. Which will totally be blown on upgrading my gaming PC!!--
Product: AKRacing Core Series EX Gaming Chair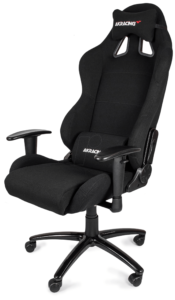 Price: £279.00 (Retail)
Cheapest Place to Buy: Scan.co.uk
Guarantee: Chair 5 Year Warranty, Frame 10 Year Warranty
Overall Rating: out of 10
---
Overview
So in this review, I want to talk about gaming chairs, in particular, the AK Racing EX range. You can sit back and enjoy gaming in comfort with a metal frame, adjustable armrests, and rocking function. With breathable fabric upholstery which is made to last so, you can focus on the game for longer. They also include a comfortable pillow set which is to offer extra support for you.
Features
This gaming chair can be used by a casual gamer or by semi-professional gamers. You have a wide range of colours that are available, you have a basic one of all black, black with blue, black with red, then it goes the other way you can get red with black and blue with black all of which come at the same cost it just comes down to the availability of the one you want.
To go with the good looks of it they are very durable, for instance, it is built from an all-steel frame that is coated with anti-corrosion to make it the most durable on the market, along with this it being paired with a class 4 gas lift it has a suggested weight of 330lbs which is 150kgs approx.
The AKRacing Ex gaming chairs have been sculpted specifically to provide as much support as possible for the curve of the lower back and overall comfort while gaming. Along with this, it has been designed with breathable fabric upholstery to keep you as cool as possible with the different colour combinations and a premium foam that keeps its shape and density after years of gaming. It has a pair of adjustable cushions that provide the extra neck and lumbar support
The last thing that I want to talk about is the ability to recline the back to get the most comfortable position for you, it goes from 90 degrees for gaming, to 180 degrees for snoozing mode, then you can just adjust the armrest to suit. To help with the tilting you also have a rocking function to prevent the chair itself from rocking which would normally happen on a standard mechanism.
The final feature that I want to mention is the warranty that comes with the AKRaming chair. When it comes to the frame of the chair it is covered under a 10-year warranty, where the chair its self is covered under a 5-year warranty. That just shows how much they believe in their product that they are willing to cover it for this amount of time.
Specification
We have covered most of the spec throughout this article but just to make it clear you have many options of colours so that is down to your personal preference. It is made out of fabric rather than leather which makes it more breathable and potentially more comfortable after a few hours of gaming. The chair is made out of a premium foam with a density up for 55kg /m³ to make sure that it keeps its shape and density over time. You have adjustable armrests, along with tilting, reclining, and the ability to adjust the height, all to make it the perfect gaming chair for you. To go along with the durable design it has been fitted with a class 4 gas lift that will support up to 330lbs.
Pro's and Con's
Overall
In my opinion, this is a very impressive chair, for gaming hours on end or even if you are at your desk working all day, you will find it comfortable throughout. If you look at other gaming chairs with all the same features you will be spending a lot more money than what you can purchase this for so overall it is good value for money. It can be a bit uncomfortable for people with bigger builds but AKRacing does offer wide back chairs to make sure they have a chair for everybody, if this chair is the right size for you it will offer an impressive amount of support for your lower back to make it as comfortable as possible. I would recommend this gaming chair to anyone who is in the market for one!
Click here to purchase AKRacing Core Series EX black
Click here to purchase AKRacing Core Series EX Black/Blue
Click here to purchase AKRacing Core Series EX Black/Red
Click here to purchase AKRacing Core Series EX Blue/Black