--This post may contain affiliate links. I receive a small amount of commission on any purchases through links on my site. Which will totally be blown on upgrading my gaming PC!!--
Product: Asus Rog Ryuo 240mm AIO RGB CPU cooler
Price:  £164.99 (Retail)
Cheapest Place to Buy: Amazon
Guarantee:  3 Year Warranty
Overall Rating:  7 out of 10
---
Overview
This is a remarkable all-in-one cooler that is on offer from Asus! The Ryuo is a series of high-performance CPU coolers designed for your mid-sized gaming builds. This AIO cooler brings the performance, features, and design details you would expect from ROG. The main feature is a LiveDash colour OLED display on the face of the mount allowing you to monitor real-time system stats or display your own image or animation which makes it stand out from all other AIO coolers. Also when using Aura Sync you can link up the RGB lighting with any other components and accessories that are Aura Sync compatible.
Features
Performance
The Asus ROG Ryuo AIO CPU cooler offers impressive cooling performance and a very attractive design. This particular ROG CPU cooler has a 240mm radiator with 2 RGB fans. The radiator is designed to deliver optimum performance generating 81CFM/5.0mm G2O for superior cooling efficiency. The Ryuo is equipped with the latest cooling- plate design that provides more thermal dissipation area for the processor heat. This reduces the thermal resistance for better performance and lower temps. To help all of this it also has four-pin PWM control for both the pump and radiator fans delivering precise speed control and the perfect performance for all workloads.
Design
It also features as I have already mentioned the 1.77 inch OLED display that enables you to have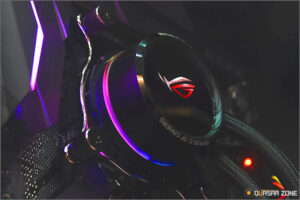 real-time monitoring. If you have an Asus compatible motherboards you are able to have vital info such as your temperatures, voltages, fans speeds, or frequencies. If you don't want to have any of this displayed you can add your images or animation up to the size of 160×128 pixels giving your build your very own personal touch. This mounts to most of the newer different CPU sockets on the market, for instance, you have AM4 TR4, then you go to intel and have LGA115x, 1366, 2011-3, and 2066.
Customise it
This cooler is much more attractive if you link it up with other components that are compatible with Aura RGB lighting and Asus Aura Sync, these give you the ability to control all of your compatible components through one program rather than they to match them all separately. The Ryuo has a subtle glow around the pump highlighting the CPU which is the heart of the build. You can customise them to match the OLED display to make the build your own.
If you just choose to use LiveDash which is the software specifically for the Asus ROG Ryuo. This also lets you easily customise the OLED display and RGB lighting effects. You can choose which stats to monitor, your images, or your logo.
Specification
We have already spoken about most of the specs talking about the cooler, however, I do want to cover them all here. Just to break it down.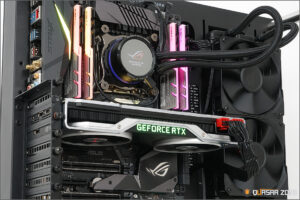 The water block is 80 x80 x 45mm and the CPU plate is made out of copper to offer the highest cooling performance. The radiator is 121 x 272 x 27mm and is made of aluminum. The tubes are sleeved rubber and are 380mm in length to the water block.
The fans are ROG designed radiator fans and are 120 x 25mm each. They have speeds from 800 – 2500 RPM depending on the load your PC is under. These have an airflow of 80.95 CFM or 137.5 m3h. And they are pretty quiet when they are going with only 37.6 dB(A).
This particular cooler is compatible with any of the AMD range, as long as it's an AM4/Ryzen socket this cooler will fit your build, even the threadripper.
This cooler has one very special feature which would be the 1.77″ full colour OLED display that is fully customisable. Which is customisable by my Aura Sync.
What comes in the box. You will receive one cooler, rand water block all in one with pre-applied thermal paste on the water block, 2 x 120mm radiator fans, 1 accessory pack with screws and brackets to mount it all in your build, 1 quick start guide to get you up and running without delay, and last of all a USB cable to software control.
The last one I am going to mention is the 3 year warranty that they offer with the cooler showing you how much confidence they have in the product.
Overall
This is an impressive bit of kit! It can keep your CPU temps down without any issues at all. With this, you are able to make this work with your build as you can go for either the AMD or Intel version to make sure that it works for you. As long as you have the right kit and a big enough case to house it, it is very easy to install and set up. The only issue that I can find is the software isn't quite up to scratch, it's not the easiest system to use and it doesn't offer quite as much as some other systems. Other than this it is very good and definitely worth consideration if you're looking for an upgrade.
Click here to purchase the Asus ROG Ryuo 240mm CPU cooler.