--This post may contain affiliate links. I receive a small amount of commission on any purchases through links on my site. Which will totally be blown on upgrading my gaming PC!!--
When it comes to computer gaming it can get very expensive very fast, however, there are ways to cut costs a little bit, at least until you can afford what you want when you have the money. Here I am going to talk about a selection of wired and wireless cheap gaming headsets that you are able to get at reasonable prices. Some of these headsets are amongst some of the best headsets to get this year so they are highly talked about and I think they are worth a mention.
Wireless
Cheapest Place to Buy: Amazon.co.uk
Retail Price: £99.99
Warranty: 2 years
Compatibility: Xbox, PS4, and PC
The first headsets that I am going to talk about are wireless. Unfortunately, wireless headsets tend to be more expensive because they require more components and software to work as well as a wired headset. The first one that I am going to talk about is the Corsair HS70 Pro Carbon. This isn't the cheapest headset out there but if you do have the money it is very good. This is also the SE version which at the time of writing this article is cheaper than the standard wireless version.
As this is manufactured by Corsair you know it is going to be a good quality product, you have improved adjustable ear cups compared to the original HS70 headset, fitting with memory foam provide hours of comfort while you are playing. It has amazing sound quality, custom-tuned 50mm neodymium audio drivers that deliver everything that you need to hear while out on the battlefield. The option for 7.1 surround sound is only available on PC through Corsair iCUE software as it enables custom equalizer settings. As we have already mentioned this headset is wireless so you can connect to your PC or PS4 through the USB adapter which will give you up to 40ft of range and around 16 hours of battery life, if you need to you are also able to plug it in and charge it while gaming. This headset has a fully detachable microphone that again has been improved from the original HS70 headset which reduces any noise from your surrounding environment due to its noise-canceling unidirectional mic with only picks up direct noise giving it excellent voice clarity. When you connect this up to your PC you have the option for 7.1 surround sound which will put you into the middle of your game, you will have all noises coming at your from all angles. You are also able to control the volume output and mute controls on the side of the earpiece which means you can do it quickly if needed without any interruptions to your game. The last bit of design that I want to talk about is it's being lightweight and durable due to is aluminum yokes to make it as light as possible and make it last through years of gaming.
Please click here to purchase Corsair HS70 Pro SE Carbon
Stealth C6-500 Wireless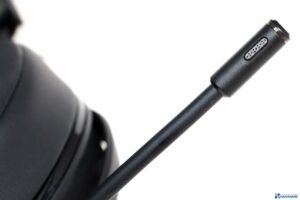 Cheapest Place to Buy: Argos.co.uk
Retail Price: £49.99
Warranty: 1 Year
Compatibility: PS4 and PC
The second wireless headset that I want to talk about is a less known manufacture Stealth which is also a much cheaper option. The Stealth C6 -500 wireless headset is easy to set up with the included dongle, all you have to do is plug it in and pair it with your headset then you are good to go with up to 10 meters of range to allow your focus on the game in hand. These are over-ear design to offer maximum comfort with ear cushions and foam padded headband for the long gaming sessions, you are also able to twist and tilt the earpieces to get them to fit comfortably for you. You have the volume and mute buttons that are easily accessible on the back of the left ear cup to give you quick access without having to interrupt any game you are playing. These are finished off with a carbon- fibre finish to give it the right finish with the light-up Stealth icon acting as a power button for the headset. When it comes to chatting with your friends with the flexible mic you have a clear voice due to the sensitive receptor, if you want to game alone you can mute the mic by pressing the button or you are able to remove it completely, it is completely up to you. Once it has been fully charged you will get up to 15 hours of gaming before having to recharge with the supplied micro USB cable. (Unfortunately, I don't have an image of the actual headset or a link to it so please bear with me.)
Wired
Cheapest Place to Buy: Amazon.co.uk
Retail Price: £49.99
Warranty: 2 Years
Compatibility: PC, Xbox One, PS4, Wii U, and Mobile Devices
Now onto the wired headphones, you will get more for your money when it comes to a wired as there is less to them having to link up wirelessly as they are usually just plug and play. The first wired set I think is worth the mention is the HyperX Cloud Stinger. This is an ideal headset for gamers that are looking for a lightweight, comfortable, and high sound quality weighing in at only 275 grams so they don't weigh you down during those long sessions. The ear cups rotate 90-degrees to allowing you to get the right fit for you. The 50mm directional drivers are positioned to sound directly into your ear to gaming-grade sound quality. To maximize comfort you have the HyperX signature memory foam to make it as comfortable as possible on your head, neck, and ears. Along with this, you have the adjustable steel sliders built for years of gaming and allowing you to get the perfect fit, with this you have the intuitive volume control on the bottom of the right ear cup for easy access to adjust the volume to your liking. The microphone is swivel to mute noise-canceling making it very easy to use as all you need to do to mute yourself is swivel it up by your head. With this mic as mentioned, you have HyperX built-in passive noise cancellation meaning it reduces all the noise around you for clear voice quality. This particular headset has multi-platform compatibility which lets you enjoy the comfort of HyperX experience on PCs, Consoles, and Mobile devices and has a single 3.5mm stereo plug and a PC extension cable with dual 3.5 stereo and mic plugs. One thing to bear in mind is that you may require a controller adapter for controllers which is sold separately and it is compatible with devices with CTIA connectors.
Click here to purchase HyperX Cloud Stinger
Cheapest Place to Buy: Very.co.uk
Retail Price: £59.99
Warranty: 1 Year
Compatibility: PS4, PC, and Xbox
The ASTRO Gaming A10 is another headset that I think is worth a mention. This headset has been designed to withstand a massive amount of abuse, it has been built with premium materials to give you the best fit possible as it won't put too much pressure on your head, It also has memory foam ear cushions to maximize comfort for all gaming sessions. This headset has been designed specifically for gaming to proved as accurate audio as possible the way it was intended by developers with its 40mm drivers. This is another headset that has a swivel to mute microphone and it being unidirectional, so all you have to do is flip it up to mute any noise from you and you will have precision and clarity with your microphone as it won't put up any ambient noises. Along with this, you have an in-line volume control which again means you have full control of your gaming and don't have to interrupt it in any way. This also offers multi compatibility as you are able to use this headset for Xbox, PlayStation, PCs, and mobile devices.
Please click here to purchase Astro Gaming A10 
Cheapest Place to Buy: Amazon.co.uk
Retail Price: £49.99
Warranty: 1 Year
Compatibility: PC, PS4, Xbox, Nintendo Switch, and Mobile devices
The last headset that I want to talk about is the Razer Kraken X. This again is a very well know manufacture for computer accessories and peripherals and much more. This headset is an ultra-light comfortable headset as it only weighs in at 250g and comes with 7.1 surround sound allowing you to play for hours without any discomfort, you have soft leatherette over-ear cushions for a plush feel and adjustable headband to help with this. As it is equipped with 7.1 surround sound software you can experience accurate positional audio when gaming, so you will be able to pick up the direction of where the action is coming from while in the game. The Kraken produces clear and balanced sound from you explosions in the middle of it, or what direction the footsteps are coming from, however, it is only available on Windows 10 64-bit. With the crystal clear sound, you also get crystal clear communication with the microphone utilizing a cardioid pattern which means it truly is a noise-canceling mic with the highest sensitivity coming from directly in front of the mic which will give amazing clarity while suppressing surround noises from the back and sides. You have convenient audio control with the microphone mute button and the volume slider is easily accessed under the left earcup for your convenience. As already mentioned this headset is an ultra-light gaming headset aimed at you being barely able to feel like you have anything on your head at all while experiencing high-quality gaming audio. Lastly, this offers cross-platform compatibility which means you can game across your PC, PS4, Xbox One, Nintendo Switch, and mobile devices while experiencing this superior audio. An extension splitter cable also provides full audio and mic access for separate output and input ports.
Please click here to purchase Razer Kraken X 7.1
Conclusion
Overall there are some amazing headphones that you can get at reasonable prices, in some cases, you are able to get better headsets for a bit less. If you are gaming on a budget or it your current headset stops working out of the blue, you are able to get a reasonable performance set to carry you over until you are able to get the ones that you want. All headsets will have their pros and cons so it is just a matter of you finding the right headset for you and what fits your needs the most.
I hope that this was helpful to you! if you have any questions or want a review on a particular peripheral, component, or accessory please leave a comment and I will get one out as soon as I can!