--This post may contain affiliate links. I receive a small amount of commission on any purchases through links on my site. Which will totally be blown on upgrading my gaming PC!!--
Product: Corsair 240mm H100i ELITE CAPELLIX RGB Liquid Cooler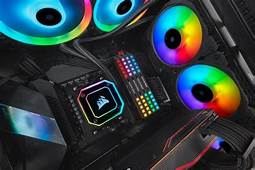 Price:  £149.99 (Retail)
Cheapest Place to Buy: The same price from Scan, Amazon, and Corsair
Guarantee:  5 Years Warranty
Overall Rating:  8 out of 10
---
Overview of Corsair Elite Capellix
I'm now going to talk about the newest All in One Cooler from Corsair. The H100i Elite Capellix cooler offers optimum cooling with minimal noise. This AIO gets its name from the ultra-bright capellix LEDs in the pump head, along with the RGB LEDs in the fans. Once you have linked it up with the Corsair Commander and Corsair iCue software you can give the pump any look you want and synchronize the lighting, adjust the fan's speeds to your liking, even putting them into zero RPM mode. You can install this cooler on most of the CPU sockets out there which has been upgraded to offer the best cooling performance with minimal noise and effort. Depending on what case you have you are able to buy different sized radiators, with the usual one 240mm which would come with 2 fans.
Features
You have much more choice when it comes to lighting effects on the pump to add a touch of style to your build. Each Capellix cooler comes with 2 separate pump caps, the first one that comes pre-installed is a stylish, glossy black or white with the second cap being more transparent to show off the updated LED's
When you have this linked up to Corsair iCue it gives you a massive amount of customizable options. For instance, the software allows you to adjust the RGB lighting to get it just right for your build, change individual fan speeds and pump speeds while monitoring your CPU and coolant temperature. You also have a Zero RPM option which if set up will stop fans completely while running at low temperatures to reduce fan noise.
With this cooler, you will receive two Corsair ML RGB fans with the potential of up to six fans on the controller which you can purchase separately. These fans are designed with magnetic levitation (ML Range) to deliver powerful airflow for extreme cooling performance with eight RGB LED's per fan to perfect your build
It is built with a split-flow copper cold plate which is designed with a high-density stack of 128 micros skived fins per inch to provide the best cooling possible along with the ability to adjust the pump and fan speeds. When you have the iCue software you will be able to customize your color schemes and monitor all temperatures throughout your build.
Specification
Being the latest All-in-One cooler on offer from Corsair they have a very good spec, most of which I have already mentioned but will quickly scan over. This particular one I am covering is called the iCue H100i Elite Capellix which is a 240mm All in One Hydro Cooler.
As in the title you can control almost everything about it through Corsair iCue software, such as the appearance of it through the LED's built into the pump and fans. You have the ability to change the fan speeds to however you want them, with the option of a Zero RPM mode which as we have already mentioned allows you to shut the fans off completely when under a certain temperature.
You will most likely be able to use this cooler with whatever set up you have as it fits a massive range of CPU sockets which are listed, as long as your socket is in the list and your case is big enough to hold this size radiator this is the cooler for you
Socket Compatibility
1150, 1151, 1155, 1156, 1200, 2011, 2011-3, 2066, AM2+, AM3, AM4, TR4, TRX4
With the Corsair Elite Capellix if you ever encounter any problems with the cooler or any faults you are covered under a 5-year warranty so you shouldn't have any concerns in that area
Pro's and Con's
What Do We Think?
Overall we think this is a really good choice when it comes to All in One cooler. it certainly looks better than the older design because of the new pump with the upgraded Capellix LED's installed and having the alternative top for the pump. Having full control over these LEDs just makes it that bit better as you can link it with any other Corsair products that you have such as other fans, keyboard, mouse, or even headset.
We don't care about just the looks it is a big part of this, but the performance is what really matters! Due to the pump being re-designed it does offer better cooling to help your computer when under a load. You can watch the real-time temperature of your CPU just to make sure it is working to its full potential. The fact you are able to turn the fans off unless it hits a certain temperature will certainly help as having too many fans can make a bit too much noise sometimes!
The fact you get an extra Corsair Commander for plugging in additional fans is very good. Your motherboard only has so many fan ports that you can use, and if you have a large case most if not all of these will already be in use so this gives you the ability to add more fans and allows you to plug in the CPU pump as well without any issues. As long as your case is big enough you shouldn't have a problem.
Unfortunately, it is not the easiest cooler to install, you may find that it is very hard to get it all mounted into place how you want it. Once you have it fitted and all set up you won't regret your decision, We would recommend this to anyone who is in the market for an AIO cooler.
Click here to purchase the Corsair 240mm H100i ELITE CAPELLIX RGB Liquid Cooler in White
Click here to purchase the Corsair 240mm H100i ELITE CAPELLIX RGB Liquid Cooler in Black