--This post may contain affiliate links. I receive a small amount of commission on any purchases through links on my site. Which will totally be blown on upgrading my gaming PC!!--
Product: Gigabyte GA AX370 Gaming K5 ATX AM4 Motherboard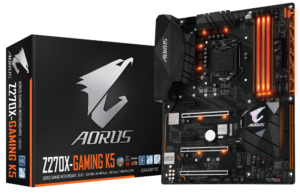 Price: £136.56 (Retail)
Cheapest Place to Buy: Overclockers
Guarantee: 3 Years Warranty
Overall Rating: 8 out of 10
---
Gigabyte AX370 Gaming K5 Overview
There are hundreds of different motherboards that you can choose from, for now, we are going to talk about one of the motherboards from Gigabyte and Aorus. This is one of many motherboards that have been manufactured by Aorus and Gigabyte. It has been released for a couple of years now however it is still a very competitive motherboard, and this particular board is an ATX form factor meaning it will only fit in ATX or EATX cases. It focuses on the Ryzen AM4 socket which will fit any of the Ryzen CPU's that are out. Along with this is has 4 memory slots, 2 graphics card slots, M.2 storage slot, and numerous SATA connectors for hard drives or solid-state drives.
Features
Aorus motherboards have the most advanced LED system in the market today, with more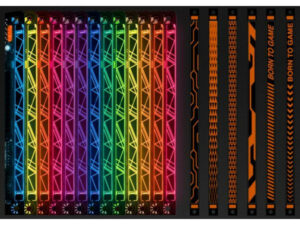 customizability than ever before and is incredibly easy to operate thanks to the RGB Fusion App. If you are into your LED lighting you have even more options as you are able to customize the different zones independently rather than them all being the same. Not only can you program them how you please you are also able to configure the LED's to display the PC's temperature under load. The LED's that are installed have a massive variation of more than 16m colours in the 2 different lighting zones. There are 7 lighting effects that are already programmed into the RGB Fusion app. The Motherboard also has 2 RGB and RGBW light pin headers allowing you to add LED lights and strips to your computer build also an accent LED with interchangeable overlays.
That's Enough about the lighting for now. This Aorus motherboard supports all of the Ryzen CPUs that are available as it is an AM4 socket so any of the old AMD chips will not be compatible. It also has 2-way crossfire/SLI multi graphics support with dual armor and ultra-durable design. This motherboard also has gigabit Lan with cFosSpeed internet accelerator software which means that it is able to improve internet latency while also maintaining high transfer rates. It also supports 2 front USB 3 ports which are one of the fasts USB ports for transferring information from one device to another. USB 3 transfers at a rate of 5 Gbps, the only one that improves on this is USB3.1 which will transfer information at a rate of 10Gbps. Along with this, the motherboard has 6 temperature sensors that allow you to monitor everything to make sure there aren't any components running too hot. You have 5 Hybrid fan headers that detect whether the cooling device plugged into it uses PWM or Voltage mode and automatically switches the setting according to it. The last feature that I want to talk about is that it has the Smart Fan 5 feature installed which means the user can change their fan headers to reflect the different thermal sensors at the different locations on the motherboards. Also, with smart fan 5 installed they have added more hybrid fan headers to make the motherboard more liquid cooling friendly
Specifications
As we have already mentioned this particular motherboard has an AM4 socket that will support all AMD Ryzen CPU's anything that is older will not fit this socket. It has an AMD X370 chipset which is mainly for overclockers and tweakers who need a reliable platform to work with. When it comes to the memory for this motherboard you have 4 DDR4 DIMM sockets supporting up to 64GB of Ram. It will support DDR4 3200 overclocked, 2933 overclocked, 2667, 2400, and 2133 memory modules. This Motherboard offers onboard graphics as long as the CPU that you install has integrated graphics, if it does the motherboard has 1 HDMI port that will support a max resolution of 4092x 2160 running at 24Hz, however as we said if the CPU doesn't have integrated graphics you are going to need to install a graphics card for the system to work. When it comes to the audio you have Realtek ALC1220 which means you don't need to install an additional sound card, as it comes standard usually they don't have very good performance and you would struggle with bad quality sound however this offers much better quality than usual saving the need for sounds cards.
You have numerous expansion slots to improve your build. You have a PCI Express x16 slot running at x16 (PCIEX16), which is the primary slot to use if you are only installing one graphics card. You also have a PCI Express x16 slot running at x8 (PCIEX8), this particular slot is used when installing a second graphics card for SLI, if this is the case the first slot will automatically operate at x8 mode to match. It has another PCI Express x16 slot that runs at x4 (PCIEX4), which operated at up to x2 when the first 2 slots are populated, if both of the first slots are unused it will operate at up to x4. With these expansion slots, it means the motherboard supports multi graphics technology meaning it supports Nvidia Quad-GPU SLI and also 2-Way SLI, along with AMD Quad-GPU CrossFire and 3-Way AMD CrossFire.
When it comes to the storage interface you have 1x M.2 connector which is the newer Socket 3, M Key, Type 2242/2260/2280/22110 SATA, and x 2 SSD support. 2 SATA express connectors, 8x SATA 6Gbs connectors which are used to connect any hard disk drives that you are using and any solid stat drives you want to connect.
There are numerous USB connectors, for example, on the back panel you have 1x USB type C with USB 3.1 Gen 2 Support, 3x USB 3.1 Gen 2 Type-A (Red Port), 4x USB 3.1 gen 1 port, there is also 6x USB 3.1 gen 1 ports (2 are on the back panel and another 4 ports are available through the internal USB headers) and also 4 x USB 2.1 and 1.1 ports which are also available through the internal USB headers.
This motherboard has a lot of different connectors for all of the different components and peripherals, for example, the internal I/O connectors are listed below with what they are for
1 x 24-pin ATX main power connector
1 x 8-pin ATX 12V power connector
1 x CPU fan header
1 x water cooling CPU fan header
2 x system fan headers
1 x system fan/water cooling pump header
1 x M.2 Socket 3 connector
2 x SATA Express connectors
8 x SATA 6Gb/s connectors
1 x front panel header (Power and reset button)
1 x front panel audio header
1 x S/PDIF Out header
2 x USB 3.1 Gen 1 headers
2 x USB 2.0/1.1 headers
1 x serial port header
1 x Trusted Platform Module (TPM) header
1 x CPU cooler LED strip/RGB LED strip extension cable header
1 x RGB (RGBW) LED strip extension cable header
1 x Clear CMOS jumper
1 x OC button
Not only do you have the internal connectors but you have some on the back panel with numerous functions again as listed below
1 x PS/2 keyboard/mouse port
1 x HDMI port
1 x USB Type-C™ port, with USB 3.1 Gen 2 support
3 x USB 3.1 Gen 2 Type-A ports (red)
6 x USB 3.1 Gen 1 ports
1 x RJ-45 port
1 x optical S/PDIF Out connector
5 x audio jacks (Center/Subwoofer Speaker Out, Rear Speaker Out, Line In, Line Out, Mic In)
H/W Monitoring is also pre-installed on the motherboard, this is software that helps you keep tabs on your computer and makes sure that everything is working as it should. For example, you have voltage detection to make sure you don't have any power surging that could potentially damage components, you are able to monitor the temperature to make sure that non of the components are getting too hot and making sure the cooling components are working correctly which would set off the overheating warning within the software. You have the ability to control the fan speeds to make them more effective or you can slow them down to reduce the noise they produce, it will inform you if any of the fans that you have installed have failed.
Pro's and Con's
My Thoughts
Overall this motherboard is very impressive, It is very easy to work with when putting your computer build together, as it is an ATX case it's not too fiddly as you have the space to work with. If you are planning on overclocking then I would highly recommend it as you have a lot of potentials as this is what this motherboard is aimed at however I personally have never attempted this as yet. As it is a modern motherboard it does have all of the latest ports for quicker transfer rates, and you have plenty of connectors for all of your peripherals and extra accessories that you want. Along with this is a very attractive looking board with the different LED areas and with the interchangeable accent and the ability to program them to your liking. I would recommend this board to anyone who wants to get into computers or if you are looking to build your next computer, as it is an AM4 socket you don't have to worry about it being obsolete for a while because the latest Ryzen chip is still running on AM4 you just need to make sure everything is up to date to support it.
Click here to purchase the Gigabyte AX370-Gaming K5 Motherboard