--This post may contain affiliate links. I receive a small amount of commission on any purchases through links on my site. Which will totally be blown on upgrading my gaming PC!!--
Product: MSI B450 Tomahawk Max II ATX AM4 Motherboard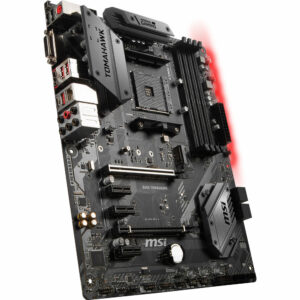 Price: £79.99 (Retail)
Cheapest Place to Buy: Scan.co.uk – Black Friday Deal
Guarantee:  3 Year Warranty
Overall Rating: 7 out of 10
---
Overview of the MSI B450 Tomahawk Max II
This is one of the more affordable motherboards that are on offer at the moment so we wanted to give our review on it. This motherboard carries a lot of characteristics within the Tomahawk Max range with the brushed dark grey finish on the heatsink and chipset. This motherboard has the AM4 socket which will accept any of the Ryzen CPUs that are available at the moment and is usually recommended to play the most recent AAA-rated games. This also has M.2 slots which allow you to install an additional SSD with the best reading and writing speeds available along with DDR4 RAM slots.
Features
Even though this is one of the more affordable motherboards it does have a lot going for it which I will go through. When it comes to thermal solutions t his motherboard has 4 fan headers that will automatically detect fans running in direct current or PWM mode for optimal tuning of fan speeds and silence. With this, it has the ability to control the water cooling pump speeds for the best cooling performance and noise control.
When it comes to speed you have to latest USB 3.2 gen 2 which has speeds up to 10Gbps, with a reversible type c connector. The Tomahawk Max II has the fully isolated DDR4 circuit to offer the best gaming and overclocking performance, which can take up to 4 sticks of RAM meaning you can play top games with the right amount of RAM.
You can install an M.2 of your choice when matched up with this motherboard will give you an amazing boot time and the ability to load up and use any games or applications without any issues. Matched up with an M.2 SSD would give you speeds up to 32Gb/s per device using Gen3 x4. Which is considerably faster than any of the SATA SSD's that you can buy.
With the build int LEDs, you can customise your build with over 16 million colours and 10 different effects that are all accessible through Mystic Light RGB LED App or even your phone.
Specification
We have covered some of the specs already so I will just be brief. The Tomahawk Max II is ATX meaning it will only fit in full size cases, it is an AM4 CPU socket so will only fit the Ryzen CPU's, non of the older FX range would work with this motherboard.
This motherboard will only take 4x DDR4 RAM sticks with a maximum of 128GB. You can use any memory speed from 2667 to 4133 OC
The primary GPU interface is PCIe 3.0. You are unable to use Nvidia SLI however you can use 2 AMD graphics cards at one time to increase your performance. There is no integrated graphics, you would need to ensure you have the correct CPU if you want to use this without a graphics card but as long as you do have the graphics card then you can use any compatible CPU
You have 6 SATA ports that allow you to install your additional hard drives and SSD's, along with this you have one M.2 slot giving you plenty of options when it comes to storage and giving you access to the quickest reading and writing speeds to date.
What do we think?
Overall we do really like this motherboard. Even if it is slightly older and more affordable it still offers so much. It has a lot of potential for a starter motherboard as it would mean you don't have to carry out an upgrade for a while due to already having the latest CPU socket, DDR4 compatibility, and the M.2 slot meaning you will be able to play those AAA-rated games without an issue. I believe this would be a very good choice for anyone who is trying to keep costs down on the next upgrade or for the next build.
Click here to grab the Black Friday 2021 deal on the MSI B450 Tomahawk Max II