--This post may contain affiliate links. I receive a small amount of commission on any purchases through links on my site. Which will totally be blown on upgrading my gaming PC!!--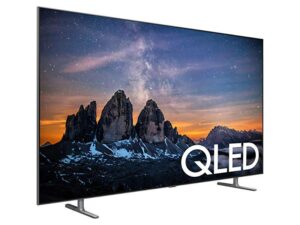 Samsung Smart 4K Ultra HD HDR QLED TV
With Black Friday just around the corner, all companies have been releasing their Black Friday deals early to try and get people to take a look at what's on offer. The offer that I want to talk about is the new Samsung QLED TV that is on offer. This is an amazing TV with a remarkably clear picture. This Samsung 50″ Smart 4K Ultra HD HDR QLED TV has Bixby, Alexa, and the google assistant installed meaning you can operate it with whatever smart speakers you have!
Picture
It has the latest HD R10+ giving vibrant colours and brightness. Its crystal 4k processor only improves what you are watching to the best 4k pictures. The Samsung QLED range is certified to provide 100% colour volume which means you get over a billion cinematic colours bringing everything to life!
 Sounds
The Samsung QLED TV has enhanced audio with virtual surround sound. Tracking sound LITE uses AI and the TV's bottom speakers to give you surround sound effects without the need for extra speakers. The adaptive sound adjusts the audio for every scene so you don't miss any details
Screen
The latest Samsung QLED TV has a minimal frame around the screen so you are left with only the crystal clear picture to enjoy. With this the TV is stunningly thin that will go with any room. It also has a clean back with no messy cables meaning it is clean and looks amazing from any angle.
Smart TV
Being a smart TV you have a massive collection of 4K films, shows, and apps at your fingertips. All of which can be set up in no time at all with your smartphone. You also have Multi-View which means you are able to split the screen in two and display two things at once. For instance, you can watch something on the left side of the screen while screen mirroring onto the right side.
Take a browse at the full description and specs here