--This post may contain affiliate links. I receive a small amount of commission on any purchases through links on my site. Which will totally be blown on upgrading my gaming PC!!--
Product: Corsair Commander Pro Smart RGB Lighting and Fan Speed Controller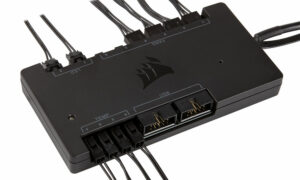 Price: £59.99 (Retail)
Cheapest Place to Buy: Comes out at the same price from different retailers Amazon- £59.99, Scan- £59.99, Corsair- £59.99
Guarantee: 2 Year Warranty
Overall Rating: 9 out of 10
---
Overview
When it comes to building your custom computer you are going to need a good airflow otherwise it may overheat. Most people would want to add LED lighting to the case as well which is where the Corsair Commander Pro comes into action. You can customize and sync all of your RGB lighting when you link them up through iCUE to create an amazing lighting show. With the Commander Pro, you have complete control of your system's performance. It gives you an in-depth insight into your system's temperatures in real-time and set up an intelligent fan curve to automatically adjust speeds depending on your system needs.
Features
Complete Control
The Corsair Commander Pro can control up to 6 fans, two RGB lighting channels, up to 4 temperature sensors, and 2 internal USB headers, giving you complete control of every part of your system. This means that you can have up to 6, 3 pin DC or 4 pin PWM fans that can run in a zero RPM fan mode which would give you total silence, or you can select what speeds you want the fans to run at.
Temperature Monitoring
As we said you have the ability to connect up to 4 repositionable temperature sensors that allow you to monitor the temperatures through the Corsair iCUE software. Along with this, you can monitor the temperatures from your CPU, graphics card, and motherboard. With the software, you can create custom fan curves and lighting profiles to adjust the fan speeds and lighting as your system heats up and cools down.
Internal USB 2 Headers
The Commander Pro has 2 USB 2.0 internal headers allowing you to connect internal USB devices such as any iCUE compatible power supplies, liquid CPU coolers, or the motherboard front panel USB ports.
Easy To Use
Due to it being small in size and low profile and including adhesive pads which mean you are able to install it behind the back panel of your case or any flat surface to be able to keep it all nice and clean. It comes with a small instruction booklet showing you how to set up the wiring to make sure it is all manageable through the iCUE software
Specification
We have covered some of the specs already however I will just clarify them here. This allows you to control the RGB lighting in your system and any of the fan's speeds. You have 2 RGB channels that would allow you to add any RGB strips that you may want to add. It has 2 USB 2.0 internal 9 pin ports for any additional components that may need power such as the CPU cooler. You have the ability to add up to 4 temp sensors within the system. To operate this to its full potential you would need Windows 10 operating system and the latest iCUE software, once installed it is relatively easy to understand. The last point I am going to mention is that it comes with 2 years manufacturing warranty to cover any failures.
Pro's and Con's
Overall Thoughts on the Corsair Commander Pro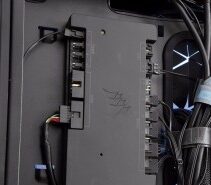 When buying a Corsair product you know you will be getting a high-quality item, they are a massive manufacture within the computer industry. The Commander Pro is certainly no exception, I have been thoroughly impressed with this since purchasing and fitting it into my system. When it comes to fitting it isn't the easiest, for instance, you would need to plan out the wiring from the fans and temp sensors to make sure they all reach your commander pro or make sure you are able to put the commander where you want it within the case and to keep the cable management at its best. Along with this again towards the cable management point you will need a decent size case for these extra cables to hide them and again to be able to store the commander.
Other than this it is a brilliant bit of kit, once you have all the fans and any extra RGB strips it completes the build, the iCUE software is very user friendly, being able to monitor your temps and have a stunning looking build. I have used a couple of different fan controllers and this one offers the most out of them, and wouldn't have an issue recommending the product.
Click here to purchase the Corsair Commander Pro from Amazon
Click here to purchase the Corsair Commander Pro from Scan
Click here to purchase the Corsair Commander Pro from Corsair