--This post may contain affiliate links. I receive a small amount of commission on any purchases through links on my site. Which will totally be blown on upgrading my gaming PC!!--
As we all know the speed that tech moves at is only getting faster and is always improving! I want to go over some of the top options you have for your gaming computer when it comes to your storage. There are a couple of different choices within the SSD range, you have the first choice and most common choice the SATA SSD which has more compatibility as you can use this with all motherboards with a SATA connector.
The next option would be M.2 NVMe drives that are the latest ones that are only compatibly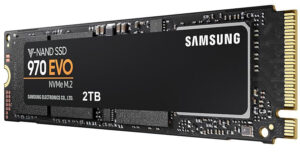 with the motherboards with the specific M.2 slot. Once you have made your choice on what type of SSD you would want, you have to choose what size memory, lighting or not, and what brand you want. These are only a select few that are on the market that we thought would be an option.
When it comes to gaming the SSD that I would go for would have to be the WD Black SN850. This specific SSD offers some of the best reading and writing speeds drastically reducing boot speeds on your computer and games depending on what you have loaded on it. Along with these new games, developers would require you to use an SSD storage device for your AAA-rated games due to the increasing demand. You can go for either 500GB, 1TB, or 2TB but we would advise the 1TB SSD as only a couple of AAA-rated games would fit on it with more and more games requiring over 100GB. You do need to check if your motherboard would be compatible with NVMe M.2 SSD's.
What we like about this SSD
This is one of the cheaper options at this size
Optional extra heatsink
One of the best reading and writing
SATA SSD with the best performance SAMSUNG 870 EVO
The Samsung 870 Evo offers the best performance from a SATA SSD, the only other way to get better performance would be to go to NVMe, but you may need to upgrade your motherboard due to compatibility. Also, this SATA SSD is considerably cheaper than the NVMe SSD, you can get a lot more for your money if you go with this option. If you wanted to store any AAA games this would be the more cost-effective way.
It will still considerably reduce the boot times of your set up and games compared to the standard hard drives with reading speeds up to 560MB/s and writing speeds up to 530MB/s and if that's not enough it comes with a 5 year warranty as well which shows how good of a product it is. You are able to get this SSD in a few different capacities from 250GB- 2Tb which I have down below.
What we like about this SSD
More cost-effective than NVMe.
Compatible with all motherboards with SATA port.
Long warranty
NVMe M.2 SSD with the best performance SAMSUNG 980 Pro
This is one of the more expensive SSD options however the extra cost also comes with higher performance. This SSD is up to 12 times faster than normal SATA SSD's and up to 2 times faster than the older 3.0 version of this NMVe. This again would mean you need a compatible motherboard, however, this 4.0 is backward compatible with 3.0 meaning you don't have to have the latest motherboard to use it.
Samsung also offers their Magic software which gives you full control of your SSD. For instance, you can monitor the drives health over time, adjust the settings to get the best performance possible, carry out any updates that get released and protect any valuable data you are storing.
What we like about this SSD
One of the best performance SSD's on offer
long warranty again
ability to monitor drives health
.      
The best value SSD would be Crucial MX500
if you want to upgrade to an SSD from your HDD or if you want to add an additional storage drive but trying to keep it within budget the Crucial MX500 is worth a look. You can choose from 250GB up to 4TB depending on how much you have to spend and what capacity you require. It's certainly not the cheapest SSD on the market however it is the cheapest we believe is worth the mention and consideration. Again it would be a massive improvement from your old HDD however the NMVe would offer the best performance.
What we like about this SSD
Competitive price for performance
Long warranty period
Best SSD with build in RGB Lighting
If you like your build to stand out from the rest you are able to get SSD's with build in RGB lighting, or you can purchase RGB covers. There are a couple of choices that you can choose from for SATA or M.2 drives or the covers but I first want to mention would be the NVMe M.2 XPG S40G. You can get this in either 256GB, 512GB, or 1TB, with reading speeds up to 3500Mbs and writing speeds of 3000Mbs which make it worth the consideration.
It has RGB lighting up both sides of the drive which you are compatible with the majority of motherboard manufacturers which means all you need to make sure is that you have an M.2 slot in your motherboard. It should get picked up automatically which means you are able to control it with no issues.
If you are unable to use an M.2 SSD you might want to think about the T-Force Delta MAX SSD. As we have said earlier the SATA SSD will fit in any computer with a SATA connection. It offers speeds up to 560 MB/s which is massively behind the M.2 however it's a massive improvement from your hard drives. You can choose from either 250GB, 500GB, or 1TB which means you can at least install the OS software on it so you reduce the boot up speed on your pc, and a couple of games or software depending on what size you chose. The Dela MAX has a large RGB surface on the face of the SSD which has built in rainbow colour effects. However, unfortunately, there is no way to control the lighting, it is only compatible with motherboards that have 9pin USB
headers which are required for the backlights.
This SSD supports S.M.A.R.T software which means Self Monitoring, Analysis, and Reporting Technologies. It also supports TRIM, this command tells the driver that the data can be removed. As you use the SSD, changing and removing certain information the SSD needs to be sure any information that is not being used is removed to optimise space so you space for more information.