--This post may contain affiliate links. I receive a small amount of commission on any purchases through links on my site. Which will totally be blown on upgrading my gaming PC!!--
Where ever you game if its just your gaming room or man cave you always want it to be eye-catching and what better way to do that than using Nanoleaf lighting, they have been releasing game-changing and innovative lighting ideas for almost ten years, with the latest update coming out only last month! Not only do they offer panel lighting but you are now able to get bulbs and lighting strips.

What is Nanoleaf
Nanoleaf was founded by 3 like-minded individuals who wanted to change up the lighting industry, creating their first product the Nanoleaf One, the world's most energy-efficient light bulb! Over the next few years, they release numerous products all of which are much more popular than they could have imagined and they open an HQ with a team of 15. They now run a company that supplies a much larger range of products in over 40 different countries and announced so more products to look forward to in the coming year.
as we have mentioned they have released a wide variety of products, first off was the Nanoleaf one, which is one of the most energy-efficient bulbs of the time, followed by the Nanoleaf Bloom a few years later. The next product they released was the Nanoleaf Light Panels, this is the product that is more known for as it changed the game on lighting with an idea no one else had ever thought of. You can buy a pack of triangular light panels in which you can connect into whatever shape you are after. Over time these have been upgraded so they would link to your music and change colour to the music you are listening to, or you can get it to reflect what is on your screen for the ultimate movie nights or those long gaming sessions.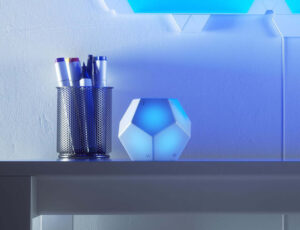 The next release was the Nanoleaf Remote Control, this is a remote control that you can use to control your Nanoleaf products and also third party homekit products. It can hold up to 12 commands for the products, for instance, you can have 1 side turn the lights on / off, and it even has rotation control, for example, you can turn it clockwise to dim the lights, or anti-clockwise to brighten them. The Nanoleaf Remote even looks like a piece of art in itself
In 2019 came the next release which was the Nanoleaf Canvas, when this was released they sold out of all pre-order stock within a week. This comes with the latest technologies as you can control these panels through touch, along with even more design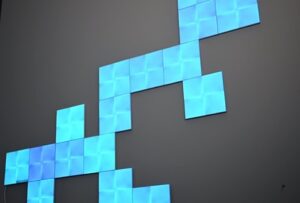 possibilities than ever before.
Rather than being in a triangular shape, these are square light panels, they are still controllable through music, and you can link it up to your screen for added effect while watching films or gaming. As we said these panels can also be controlled through the touch of your hand.
The latest product they have released is the Nanoleaf Shapes, which features the first modular smart lighting with Shape interconnectivity or what they call Connect+. Hexagons are the first shape of the line but you can also buy two different sized triangles to mix it up.
If you buy the different shapes out of the Shapes line you can connect them all up to create whatever design you want.
Again you can link these up with your music and what is on the screen of what you are doing. You are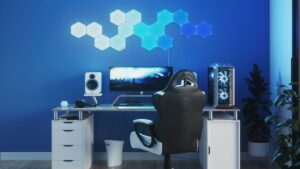 also able to control them via touch, the same as the last release. This series has what is called layout detect, this is where it creates intelligent colour animations depending on what panel layout you have. The Nanoleaf Shape range sold out its pre-orders in the first 72 hours of being released.
In their latest announcement in late 2020, they have said they are working on lighting strips, these are due to be released in 2021 for you to get your hands on! With these strips, you can have custom schedules, you can wake up to natural sunrise colours, along with being able to change the colour temperature to complement your body's natural clock. All of this can be controlled through the app or homekit, or google home, if you don't want to use the app, you can use the manual controller, you can turn on/off, change brightness, or cycle through the colours with ease.
How it Works
When you purchase a starter kit you would get the panels that you have chosen, a rhythm controller to link up with your music or screens, the power supply, a controller, the required amount of linkers to connect your panels together, the double-sided sticky pads to mount them to the wall and last of all a quick starter guide to get you going. You don't need anything extra to get you going, you don't need any tools as they are all mounted by tape that is supplied.
With all of the available panel lighting, you can connect to Wi-Fi which allows you to go more advanced controls, which give you a wide amount of possibilities to control your Nanoleaf, for instance, you have the Nanoleaf App, here you can control the different rooms individually, you can virtually create a layout and see if it looks right where you were planning without having to stick anything to the walls. You can create schedules, for different times of the day and different days of the week. You can even see playlists that other people within the community have created to watch the lights dance around as you listen to your favourite songs. The possibilities are endless!
You do have the ability to control it through Apple homekit, Amazon Alexa, Google Home, Nanoleaf Screen Mirror, Nanoleaf Desktop App, Razer, and numerous other Apps, all with their own ways to control your lights. Touch is another way in which you can control them, you don't have quite the customizing options as the Apps but it certainly makes it easier as you just walk past.
Where to Purchase
There are numerous places where you can purchase your Nanoleaf Starter Pack! first off would be through them directly, they have all of the information that you need to make your decision along with all of the expansion packs when you may want them, or even if you need any spares. You also have amazon, if you want to get them the next day this might be the way you choose to go, they have most if not all of the products on there as well. You also have Currys, which offer most of the range, again you can order them for delivery or if you want them that bit sooner you can collect if they have them available. Then you have Apple, as you can link them up with their products and the only other place I am going to mention for now would be Scan, just so you can link it up with your gaming rig for a whole new experience.
What We Think
all you have to do is look at the reviews that Nanoleaf receives to know that it is a good product and how amazing they look, you don't have to take it from me. They do create a whole different atmosphere when you have them customized to your liking, they certainly get the attention of everyone who comes in as they just catch your eye because people don't always see them around. They are the perfect product to make your gaming room look next level, and it gives you a whole new experience when you have them behind your screen mirroring the effects you are seeing on screen. I would definitely recommend it to anyone who is into their tech and wants to change the man cave up a bit!
If you already have a Nanoleaf design share it with us below along with a few words on what you think!