--This post may contain affiliate links. I receive a small amount of commission on any purchases through links on my site. Which will totally be blown on upgrading my gaming PC!!--
Product: Thermaltake Smart RGB 700 Watt 80+ PSU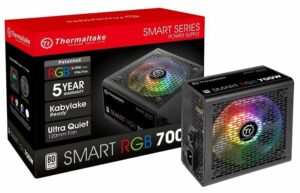 Price: £76.26 (Retail)
Cheapest Place to Buy: Scan.co.uk
Guarantee: 5 Years Warranty
Overall Rating: 7 out of 10
---
Overview of Thermaltake Smart Series 700w RGB PSU
The computer power supply that we are going to talk about is manufactured by Thermaltake. This is a massive computer component company as they manufacture all sorts of components such as fans, computer cases, power supplies, AIO cooling, and much more. The power supply that I want to talk about is their newer smart RGB 700watt fully wired unit. This particular unit has a choice of 500w, 600w, and 700w, all of which are fully wired and has a built-in 120mm RGB fan.
Features
There are many features of this power supply. It has an ultra-quiet 120mm fan installed to keep the noise down as much as possible. The fan that is installed is RGB and has 10 LEDs, with just one button you are able to switch between 15 different lighting modes in total which are, pulse red, green, blue, yellow, purple, light blue, white, RGB cycle, and solid red, green, blue, yellow, purple, light blue, and last of all white, if you don't want any of these you are also able to turn RGB off. To save you having to find the colour every time you use your computer it has memory built in to remember what colour you had it on when you turn your desktop off. As it is a fully wired unit all the cables that you are going to need are built-in, all of which are listed in the specifications.
Specification
This power unit is part of the smart RGB series as we have said it has the LEDs installed in the fan and is only for a full-size ATX case as it would be too big to fit in smaller cases. It has one 120mm cooling fan installed at the top of the unit to keep it as cool as possible while the PC is on. The power output of this unit is 700watts which is a decent amount for a custom computer, if you had a desktop this would be more than enough, you would need to look at the power usage of all the components that you have to make sure that 700 watts would be enough. It comes with a W80 plus certification which stands for 80 plus white, this is the lowest rating that you can get but there are power units that don't have any ratings at all so it doesn't mean it is a rubbish unit. This just means that it isn't quite as energy-efficient as more expensive PSU's that are on the market, the max efficiency of this unit at 230Vac is 86%. This is a single +12v rail PSU and this rail produces 54A which is the max output as this is the only rail in it. Most normal PSUs would include three basic rails which would be +3.3v, +5v, and +12v which would give you a higher Amps as you would combine them for the mac output. Unfortunately, this is a non-modular unit which means all the wires are built into the unit and you cannot add to them or remove any like you are able to with a fully modular. As it is fully wired it only comes with one wire for the graphics card which means that you are unable to run two graphics cards together on SLI, you are only going to be able to run the one on its own. The list of wires that are built into this PSU is listed below with what they are used for as well.
1x 20 + 4 pin connector – Main motherboard power connector.
1x 4+4 pin ATX 12V – Power cable for both 4 pin and 8 pin motherboards.
5 x 4-pin Molex – Certain Molex pins are for fans, CD/DVD Drives.
2 x 6+2 pin PCIe – Graphics card power cable for 6 pin and 8 pin graphics cards.
6 x SATA Connector – Powering SSD's or HDD's. Storage devices power
Pro's and Con's
Final Thoughts
This power supply is aimed more towards the beginners for gaming computers. It is more than powerful enough for the more basic builds and some more intermediate builds without a problem. Along with this, you have the RGB fan installed which will add to the looks of your build, and you are almost unable to hear the unit working as you use your computer. This is one of the cheaper units that you are able to buy with the installed RGB light which means there are some faults that you might need to think about, unfortunately, this is non-modular which means you are going to need a big enough case to hide the wires that are not required of you want to have a tidy build, because of this you are unable to run SLI with two graphics cards as it doesn't come with enough connectors and you are unable to install any extra cables. With the RGB lighting, you are unable to program the lights to match the rest of the build with pulse timing or the RGB cycle you will need to try to make the rest of your build match the power unit which would be hard to match up with the perfect timings unless you go with solid colours. Last of all it does comes with a low energy efficient certificate which means there are better ones out there but on the plus side this doesn't mean it's a bad power unit as there are a lot of power units out there with no certificate at all so it is still a good unit for the price that you are paying. Overall I would more than recommend this to anyone who is getting into building their own computer and in need of a unit they won't need to upgrade any time soon, and it had a nice price tag compared to the fully modular PSUs and the more powerful units.
Click here to purchase the Thermaltake Smart RGB 700 Watt 80+ PSU