--This post may contain affiliate links. I receive a small amount of commission on any purchases through links on my site. Which will totally be blown on upgrading my gaming PC!!--
I want to talk about a new product that Corsair released later this year. The Corsair iCue Nexus is going to help run your rig how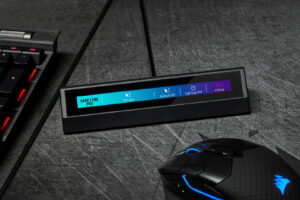 you want to without interrupting any tasks that your running. It has a touch screen that you can customize however you want, it has 200 different slides and up to 6 buttons per slide so you have a smooth transition for your apps and controls.
What is the Corsair iCUE Nexus?
So what is this and why do you need it? You want to harness the power of Corsair iCUE software and there is no better way than to do it with the Corsair iCUE Nexus Companion Touch Screen. It allows you to view in-depth real-time system monitoring such as temps and speeds, you can also control anything that is iCue compatible devices. You can also create custom one-touch actions and macros for your games and apps.
Specifications
it is a very compact design being only 5 inches diagonally across with a display resolution of 640×48 pixels. It has up to 256 customizable swipe to navigate screens with unique graphics and icons. On each screen, it will have up to 6 programmable virtual buttons with drag and drop graphics. You set it all up through the iCue software that you download when you have any devices that are compatible with iCUE. You can use it as a stand-alone piece that would connect via USB, or you can attach it to the compatible keyboards listed to look more stylish. It also comes with the standard Corsair 24-month warranty.
Keyboard Compatability
As we have already mentioned this can be used on the stand-alone base that is supplied with it meaning you can have it anywhere on your desk, or you can attach it to the three compatible keyboards. The first one is the Corsair K70 MK.2 Low Profile keyboard which you can see a review here. The second option that you have is the K70 MK.2 normal profile keyboard which you can see the review here. The third keyboard would be the K95 Platinum which you can see the review here. The K95 keyboard shares the same fitting at the K70 MK.2 normal profile keyboard. This would give you the ability to keep it looking stylish and keeping it all integrated so it is there ready to use.
Customizability
You have a massive choice when it comes to customizing your Nexus, you can have one button per screen or 6, you can have real-time monitoring displayed, you can look at your fan speeds or even control your other Corsair devices. There is a massive variety to what you can do, If you don't want these buttons then you can create your actions and marcos for your favorite games and apps within the iCUE software that can be activated with a single touch. Along with this, you can program it to launch certain apps like discord to talk with your fellow gamers, you can open Spotify to listen to any songs you want, and many more with one touch. As we have said you can control other corsair devices, for instance, you can adjust your mouse sensitivity, your headset equalizer all without having to leave your current application or game!
Where to Purchase
You can purchase this from a couple of places at the moment. The first place to go is obvious as it would be Corsair as this is the manufacture of the Nexus, they offer the software that allows you to use it to the full potential and they offer all of the products that are compatible with the Nexus. On the day of writing this, it is there is no stock at Corsair and you can pre-order it with Scan. Scan is due to have stock around 20th September this year.
Conclusion
Reading into this accessory it has the potential to be very impressive. It would make it a lot easier to operate your computer to control the different games and apps that you are running without actually having to interrupt any of them. Along with this, you can check all of your real-time readings without it having to be in the corner of your screen all the time, it would be right in front of you. It will make the general running of the computer a lot easier. Once there is more stock I will be looking at getting one and writing a review on how it helps me personally or if it doesn't.