--This post may contain affiliate links. I receive a small amount of commission on any purchases through links on my site. Which will totally be blown on upgrading my gaming PC!!--
Product: Deepcool Gammaxx GT A-RGB CPU cooler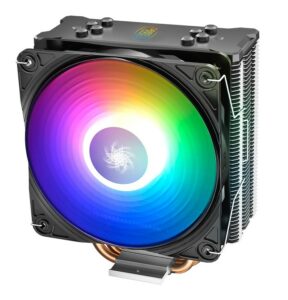 Price: £34.99 (Retail)

Cheapest Place to Buy: Scan.co.uk
Guarantee: 5 Years
Overall Rating: 7 out of 10
---
Deepcool Gammaxx GT A-RGB CPU Air Cooler Overview
This is the latest and upgraded version of the previous Gammaxx GT RGB CPU air cooler. The old cooler was pretty good on its own but now they have upgraded a few components to try to make it that little better. You have upgraded heat pipes there are still only 4 pipes but they have been upgraded for better heat dissipation. Along with this, the RGB lighting has been upgraded to ARGB which can now be controlled by either the new controller that comes with it or the motherboard. Along with this, the mounting kit has also been upgraded so it is much easier to install compared to the previous cooler.
Specification
This CPU air cooler is a single tower form, as you are able to two towers as well to improve cooling. You have four heat pipes in this model as it is a single tower form, if you had more towers you would have more pipes to increase cooling performance. It has LED lighting build into the top of the cooler that you can control via the motherboard or the controller that comes with it. It also comes with a 120mm fan with build-in LED's which again can be controlled via motherboard or controller.
Compatibility
This CPU cooler has a massive compatibility range as it goes across all the AMD range and it covers a lot of the Intel CPU sockets. For example, you are able to install it on any of the following Intel sockets LGA1150, 1151, 1155, and 1366. As for the AMD sockets, it will fit to all the following, AM2/AM2+, AM3/AM3+, AM4, FM1, FM2, and FM2+ which covers the whole of the AMD CPU sockets that are available
Pro's and Con's
Conclusion
The performance for the price of this cooler is very impressive, it looks the part and it has a very good feel to it as it is a quality component. This would be the perfect part for people who are building on a budget but need a good reliable cooling component. This has to be one of the easiest coolers that I have come across, the instructions are very easy to understand are very easy to follow. You would be going with a very reputable company along with this you will get 5-year warranties to cover any problems that you have. If you want to have all the same fans within the build you are able to swap out the Deepcool fan for any other 120mm fan that you choose as they are only held in with place with 2 metal clips that hold on the current Deepcool fan. Overall I think that it is a very good cooler, it's quite large so you will need to go careful and make sure it would fit in your case but for the money, it is easily worth the money if you are on a tight budget.
Click here to purchase the Deepcool Gammaxx GT A-RGB Air Cooler