--This post may contain affiliate links. I receive a small amount of commission on any purchases through links on my site. Which will totally be blown on upgrading my gaming PC!!--
Product: Vengeance RGB Pro 16GB (2x8GB) DDR4 DRAM 3200MHz C16 Memory Kit
Price: £109.99  (Retail)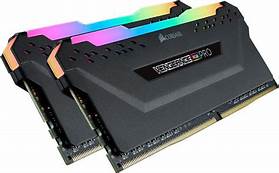 Cheapest Place to Buy: Amazon.co.uk
Guarantee:  Limited Life Time Warranty
Overall Rating:  9 out of 10
---
Overview
The Vengeance RGB Pro is another series of RAM that is offered by Corsair. There is a large choice in the series if you want white or black sticks, with the RGB lighting built into the top. You can get 8, 16, or 32GB sticks by buying either 1, 2, or 4 in a pack. This specific RAM has RGB lighting installed along the top to help make your setup stand out a little more. This is all controlled through the iCue software which also allows you to monitor it while gaming!
Features
This series of Corsair Ram has a lot going for it! As you already know the Vengeance RGB Pro series has multizone RGB lighting built into the top where you can experiment with a huge variety of user-adjustable colors and adjust LED brightness to perfectly match your system.
If you haven't already purchased a Corsair product when you do you will realise you have a massive amount of control over it. You can download the powerful Corsair iCue software which will allow you to bring your system to life, you have a massive amount of control over the RGB lighting so you can sync up with your iCue compatible products. This particular RAM RGB is also compatible with MSI mystic light sync, Gigabyte RGB Fusion, and Asus Ayra sync.
There are no wires involved with which leaves a seamless install. The Vengeance RGB Pro has an aluminium heat spreader to improve the thermal conductivity to offer the best cooling when overclocking your PC. Along with custom performance PCB which provides you with the highest signal quality for highest performance and stability
One of the most impressive features is not from the product itself but the manufacture. They have such confidence in their product they offer a limited lifetime warranty to give you total peace of mind that it's a product you can trust.
Specification
We have covered some of the specs already, but I just want to make sure I don't forget anything. there are numerous series of RAM on offer from Corsair, for instance, this is part of the Vengeance RGB pro series.
It is part of the latest memory type being DDR4, offering frequency from 2600MHz up to 4600MHz depending on your budget and your build. this particular product that I am talking about is 3200MHZ which is around the mid-range and a common choice. Being DDR4 it has 288 pins which are different from the previous versions.
This is the 16GB memory size with 2x8GB sticks, you can have as little as 1x8GB sticks or as many as 256GB which are 8x32GB sticks. In most pc builds this would be complete overkill, it all depends on what you want from your PC.
As we have already mentioned it has the latest aluminium heat spreader to keep them as cool as possible if you want to overclock your components. You also have the LED lighting build into the top of the ram sticks that have a single zone or multi-zone lighting which are individually addressable. When you go to purchase this series of RAM sticks you can either get black, or white, both with the LED lighting built-in
This RAM is compatible with a massive range as follows; Intel 100 Series, Intel 200 Series, Intel 300 Series, Intel 400 Series, Intel 500 Series, Intel X299, AMD 300 Series, AMD 400 Series, AMD 500 Series, and AMD X570. This means that as long as you have a motherboard supporting DDR4 RAM it will work alongside your components.
What Do We Think?
overall this is an impressive set of RAM, if you looking for your next RAM upgrade, this is certainly worth consideration. It won't be perfect for everyone, if you are trying to build a compact build this may cause an issue due to their higher profile with the LEDs built into the top. There is a massive range for you to choose from if you want two to eight sticks, with them ranging from 8GB to 32GB with a choice of speeds on top, meaning you will be able to find the right set for your build.
Once they are installed they are very easy to control and monitor through the iCue software as they will automatically register on there ready for you to customise as you please. Along with this, if you choose this particular set or a set with only 2 sticks, you can buy what is called a Vengeance RGB PRO Light Enhancement Kit which is 2 RAM sticks without memory but look identical which allows you to fill in the empty RAM slots to finish the look. You can get these with the matching black or white finish to match what you already have installed.
I would happily recommend this Corsair component to anyone who is looking into their next upgrade!
Click here to purchase the Corsair Vengeance RGB Pro 16GB DDR4 RAM in Black
Click here to purchase the Corsair Vengeance RGB Pro 16GB DDR4 RAM in White