--This post may contain affiliate links. I receive a small amount of commission on any purchases through links on my site. Which will totally be blown on upgrading my gaming PC!!--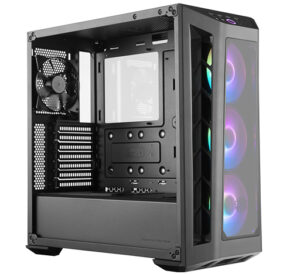 Product: Cooler Master MB520 ARGB ATX PC Case
Place to Buy: Novatech
Guarantee: 2 Years
Overall Rating: 8 out of 10
---
Cooler Master MB520 ARGB Overview
The ARGB model is the upgraded version of the normal MB520 RGB case, they upgraded the RGB abilities as they provide much more flexibility of lighting options. This falls into the category of a Mid case which is a normal ATX case, this is the standard 'normal' case size that you would come across. It is a very attractive case as it has a full edge to edge tempered glass side panel which allows you to show off your build, along with this you have a tinted front panel with aggressive-looking vents which certainly adds to the look.
Different Layout Possibilities
This is a very spacious case which means you have numerous ways in which you can set up your cooling system. You are able to fit all motherboards up to the size of E-ATX and graphics cards up to a length of 410mm which gives you a massive choice of components without having to worry about it fitting. When it comes to cooling your build you have 2 options, going for standard air cooling with fans or AIO (All in one) cooling. If you decide to go down the air cooling path you are able to fit 3x 120mm fans or 2x 140mm fans in the front, you can get 2x 120mm or 2x 140mm fans on the top of the case and 1x 120mm fan at the back of the case. Or you can go down the route of having AIO coolers, you can get anything up to a 360mm radiator on the top of the case, up to a 360mm radiator on the front section, and a smaller 120mm on the rear. This would give you the ability to have an AIO as a CPU cooler and another as a GPU cooler which would reduce the temperature of your computer
Specification
This case is part of the MasterBox series that has been released by Cooler Master. As we have already said it is a Mid-ATX case that has a tempered edge to edge glass side panel for easy access and a nice looking finish. As this is a newer updated case it comes with the new ARGB controller so that you can use the pre-installed fans. You don't have any 5.25″ drive bays in the front of this case which means you are unable to install any CD drives or fan controllers. For this, you would need to buy external ones that you can connect up if they are required. You have 7 expansion slots in the back of the computer, bearing in mind most of the larger graphics cards will take up 2 of these. When it comes to storage you have 2 slots for a 2.5″ drive bay for SSD's and 2 3.5″ drive bay for HDD's or you are able to have 4 2.5″ drive bays. The case will come with 3 pre-installed 120mm ARGB fans along with a standard black 120mm black fan in the back. As we already mentioned it can support 3 fans on the top of 120mm and 2x 140mm, the front can have the same again 3x 120mm fans or 2 x 140mm and the back can hold 1x 120mm. When it comes to radiators you can install 120mm, 240mm, or 360mm at the top with a max of 44mm motherboard component height. You can install a 120mm, 240mm, or a 360mm radiator in the front of the case and at the rear a 120mm radiator. It will also come with dust filters on the top of the case and in the front grills to keep the case as clean as possible. It will support a CPU cooler with a max height of 165mm otherwise it will interfere with the glass side panel and a graphics card with a max size of 410mm or again it won't fit within the case.
Pro's and Con's
Conclusion
In my opinion, this case is very good. It does have a couple of flaws but overall it is out weighted by the positives, for example, it is a very spacious case so you can lay it all out however you like, you have a wide choice of components that you are able to fit in this case so most builds will work with it, along with this as it is very spacious you get a very good airflow as your components aren't cramped together. It is a very good-looking case, you have the nice tempered glass side panel without any borders, along with the tinted front panel with the grills going down the side, and when you install your lighting that you want it just finishes off the look. There are only 2 main faults that I can find with this case, first of all, there is not a massive amount of space behind for cable management as you also need to save space for a controller for lighting and your SSD drives that slot into the metal plate. The second thing that I do not like about the case is when you install 2x 140mm fans on the front there is a large empty gap whereas if you install 3 x 120mm fans they would be top to bottom without any empty gaps. Other than this it is a very nice case.