--This post may contain affiliate links. I receive a small amount of commission on any purchases through links on my site. Which will totally be blown on upgrading my gaming PC!!--
Product: Corsair Dominator Platinum RGB 2 x 8 GB DDR4 3200Mhz C16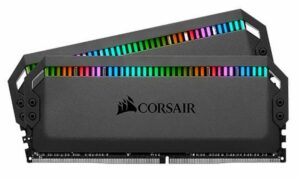 Price: £134.99 (Retail)
Cheapest Place to Buy: Scan.co.uk
Guarantee: Lifetime Warranty
Overall Rating: 10 out of 10
---
Overview
Corsair is massive manufacture when it comes to gaming PCs and components. The culmination of 25 years building world-class memory. Corsair Dominator Platinum RGB DDR4 is a premium option for all gamers with tightly screened high-frequency memory chips. The Dominator series heritage and experience has created the most advanced DDR4 that they have ever created.
Features
As this is a premium range of DDR4 there is a lot to be considered. This particular model has superior aluminum craftsmanship which means it is a very durable component. It has 12 ultra-bright capellix RGB LED's installed into the top which is individually addressable via the iCUE software. You are able to illuminate your system with dozens of amazing light profiles already on iCUE or you are able to create your own with massive customization ability. Another feature with this particular RAM is the ability to synchronize your lighting across your build with all of your iCUE compatible products. Along with this on the iCUE software by Corsair you are able to keep up to date with real-time temperature and frequency readings. Dominator Platinum RGB is available in other high-performance speeds up to 4,800 MHz which would make it the world's fasted air-cooled production memory, with the ability of potential overclocking to push them even higher again.
Specifications
This ram is part of the Dominator Platinum RGB series as you are able to purchase Corsair Dominator Platinum memory without the RGB LED. It is also the newer type of memory as it is DDR4 which is much faster than DDR3 and has much higher clock speeds. The tested speed of this particular kit is 3200MHz, you are to buy faster kits however the price will start to increase, or you are able to go slower and save some pennies. It has a tested latency of 16-18-18-36 which is around the usual mark again you are able to get faster and slower again, this means how fast it reacts to command the lower the number the quicker it reacts. This set is 2 ram sticks of 8 GB which is on the smaller side as you are able to get 16 GB ram sticks. As we have already mentioned they have RGB LED lighting installed in the stick which has the ability for single or multi-zone lighting addressability. The Corsair Dominator ram has massive compatibility as the RAM stick will connect to any motherboard that supports DDR4 RAM as they are different from DDR3, DDR4 stick have a total of 288 pins whereas the older DDR3 only has 240 pins so they are not interchangeable.
Pro's and Con's
My Thoughts
This set of RAM is very impressive, it is of very high quality and very high performance. This particular ram set is perfect for anyone who is building any type of computer, 16GB will handle the majority of tasks that you throw at it, the only reason that you may need more would be because you want to increase the number of tasks that you are doing, for instance, if you are heavily involved in video editing. For gaming, this 16GB kit will be more than enough to handle any AAA-rated games on high specs as this would require more VRAM from your graphics card. The LED lights that are installed are very good quality as they a very bright and you are able to program them to however you want them, you can match them to the rest of the build you have them completely different. Changing them on iCUE is very easy as it will automatically pick them up on the software then you can use the pre-installed lighting configurations or create your own with ease. As they are from massive manufacture they also offer a lifetime warranty on all the RAM products, this proves how confident they are with the product that they are supplying.
Click here to purchase Corsair Dominator Platinum RGB 2 x 8 GB DDR4 3200Mhz C16